FIRST VISIT
WHAT TO EXPECT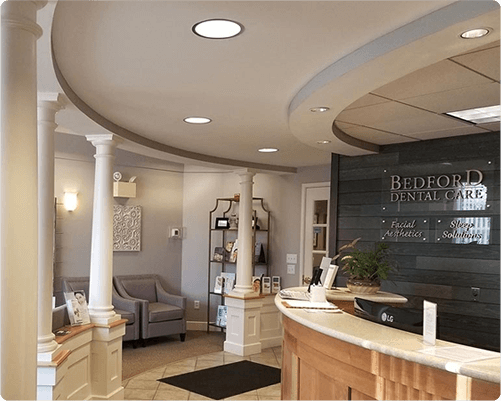 Welcome to Bedford Dental Care! We appreciate the opportunity to show you how we are different.
When you come to see us, we will LISTEN! Many seek us out with pressing needs – broken or decayed teeth that are causing pain, missing teeth that are causing trouble chewing, a smile that causes embarrassment, etc. Others wish to maintain their teeth and smile just the way they are. What's important to you is important to us! – we are here to help you meet your goals, whatever they may be.
If it's been a while, or if you're embarrassed by your teeth – don't worry! We won't "shame" you or give long winded lectures. We want to help, and we are excited that you are giving us an opportunity to do so. Our team is designed to be able to handle nearly any situation under one roof. Even if you feel embarrassed or like your mouth is hopeless, we can help!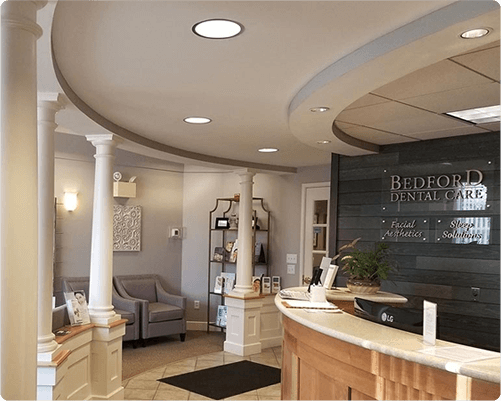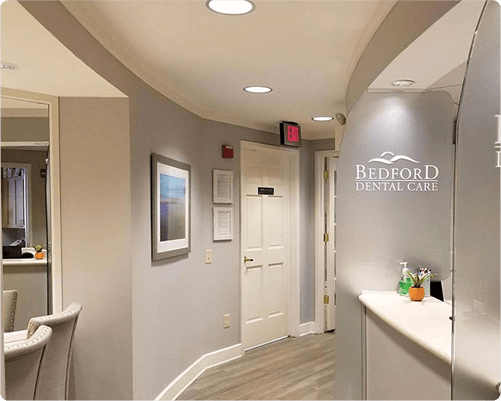 Most of our new patients see the dentist for their first appointment (and schedule with the hygienist after that). This allows us the ability to personalize your care. After a dental assistant takes the necessary records (digital x-rays, digital photographs), the dentist will discuss your goals and take a look at your mouth. When we look at the mouth, we aren't just looking for cavities. We believe it is important to do a comprehensive examination of every aspect of your oral health: teeth, gums and bone, bite, esthetic appearance, muscles and TMJ, and an oral cancer screening.
After the exam, your dentist will speak with you about their findings. If there are concerns, your dentist will explain why it is a concern – and then work with you to find a plan that meets your goals for your oral health and smile.
We will also establish an appropriate plan with the hygienist to ensure your gums and bone provide a healthy foundation for your teeth.
In terms of fees – we strive to be entirely up front and transparent in our financial arrangements. We know how frustrating it can be when bills are unclear! Our treatment coordinators are experts in helping you understand your financial commitments, maximizing any insurance benefits you may have, how to utilize HSA/FSA accounts, etc. We understand that everyone has a different financial situation and we work hard to find a way to help everyone afford the dentistry they desire and deserve. We even offer monthly payments!
We look forward to meeting you and are ready to show you how we are different!
OUR DOCTORS
MEET THE TEAM
DR. PAUL CONNOLLY

Many people have asked me through my adults years, "what do you do for a living?" The boring textbook answer is I am a Prosthodontist. However, how I see myself as someone who strives to provide a wonderful customer experience, in which patients can obtain their ideal oral health and function. I help people Smile, Eat, Laugh, Enjoy their ultimate moments in life. I want the opportunity to help everyone make and maintain their smiles of their future enjoyment.

DR. WILLIAM GUTHRIE

I love being a dentist and serving my patients. I am blessed to be able to help people while doing something I truly love and am passionate about. It is so rewarding to experience a patient's renewed confidence or hear "I wish I had done this years ago!"

DR. SILVIA YUE

Hello! Welcome to Bedford Dental Care! I joined the amazing team at Bedford Dental Care in 2018 when I moved my family here from California. What I love most about working at Bedford Dental Care is that we have a passionate, wonderful team that truly cares about our patients and their well being. I have great colleagues that not only I enjoy working with but their passion of delivering the highest quality of care really stands out!

DR. RASHA RAFIZADEH

I did not come from a family of dentists, nor was dentistry the career I dreamt of having as a little girl. Yet when it came time to choose a career path, I knew I wanted to be in a field where I can help improve and impact peoples lives. Growing up I spent many hours in the dental chair and always loved going to the dentist. No matter the difficulty of the procedure, I always had a positive experience and slowly each visit left me with a healthier mouth and a more growing confident smile. It was once I realized how much dentistry influenced my own life and improved my self confidence, that I knew I wanted to help others achieve the same thing.

DR. ELINA FOOKS

Dr. Fooks graduated Cum Laude from Brandeis University and received her Doctorate of Dental Medicine from Tufts University School of Dental Medicine. She continued her training at New York Presbyterian Hospital, and in 2003, she graduated from the Endodontics program at Tufts University School of Dental Medicine, where she now serves on the faculty as an assistant clinical professor. Dr. Fooks is a member of the American Dental Association, American Association of Endodontists, and Massachusetts Association of Endodontists.

DR. SHARON E. JOHNSON

Dr. Sharon Johnson is a board-certified periodontist and is committed to providing exceptional periodontal care and dental implants. She treats each patient's needs individually and takes time to talk with her patients and put them at ease. Her goal is to make her patient's comfortable by communicating treatment effectively, so each patient fully understands the recommendations. Dr. Johnson has dedicated her professional life to dentistry and oral health. Upon graduation from Kimball Union Academy, she earned her Bachelor of Science degree at Northeastern University, while also earning a certificate in Advanced Dental Hygiene from the Forsyth School of Dental Hygiene.