WOULD YOU LIKE A NEW SMILE?
A smile makeover restores a smile to the way it was intended to be – healthy, attractive, and functional.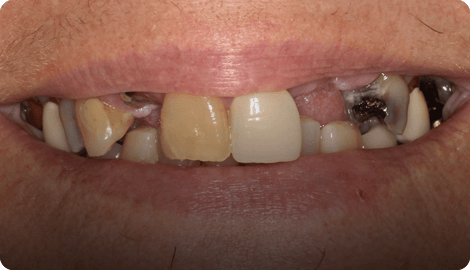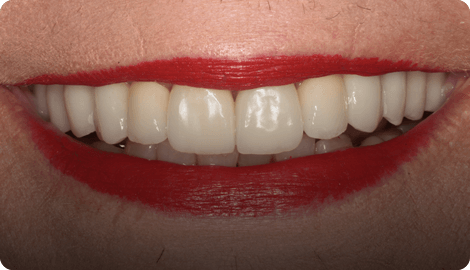 Over the years, teeth can break down from many causes: cavities, a traumatic bite, grinding or clenching at night, acid erosion, and other forces. Early breakdown that goes untreated can lead to a vicious cycle of continued destruction, chipped teeth, pain – and accelerated tooth loss.
With a smile makeover – also referred to as full mouth rehabilitation or full mouth reconstruction – we can restore your teeth to how they were before all the wear and tear. Rebuilding your smile can lead to improved health, a more stable bite, better function – and of course it will look amazing and natural!
This sort of treatment requires tremendous skill, experience, and communication. At Bedford Dental Care, we have a team of experienced dentists and specialists that allows us to complete all treatments under one roof – even complex cases that might have been considered "hopeless".
And if you are worried about getting lectured or "shamed" – don't be. We know how hard it is to take that first step! We will treat you with understanding & we look forward to the opportunity to help you.
SIGNS A SMILE MAKEOVER MIGHT BE RIGHT FOR YOU:
SIGNS A SMILE MAKEOVER MIGHT BE RIGHT FOR YOU:
You noticed your front teeth are chipping or looking smaller than they used to.
Your teeth have gotten to the point that you believe your situation is hopeless or beyond fixing.
You are already having some trouble chewing and are worried what will happen if you lose another tooth.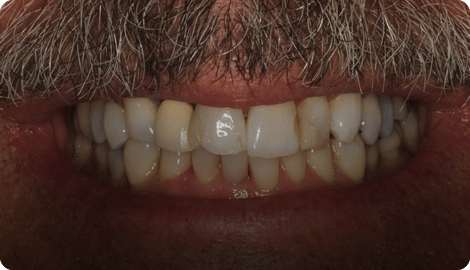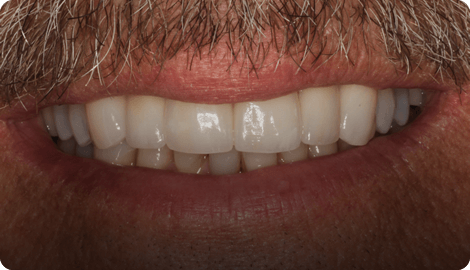 WHAT IS THE PROCESS LIKE?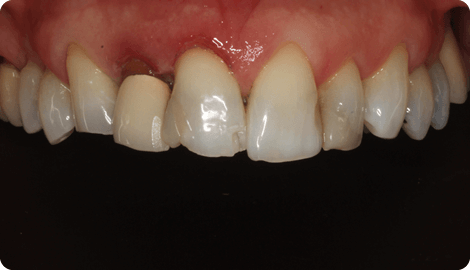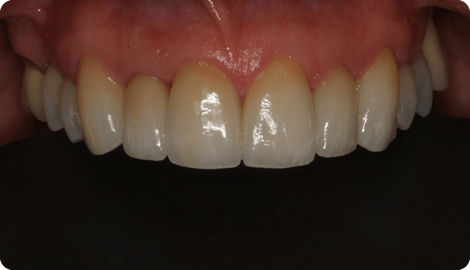 WHAT IS THE
PROCESS LIKE?
At your initial consultation, our team will take x rays and photographs and discuss what your goals are for treatment. We will then come up with a long-lasting solution for you.
There are usually a few options for how to get to our desired result, so we'll be sure to figure out the path that works best for you. From there, we plan out the entire case with a wax blueprint which guides every step of our treatment. Your provisional / prototype restorations will be made off the blueprint, which allows us to confirm our plan inside the mouth to see how it looks and functions. If we need to make any changes to length, shape, bite, etc – we can easily make those change requests with our highly trained ceramist. Every step is completed with precision so that the final restorations are a predictable success – there is no "winging it" when it comes to full mouth reconstruction!
Come on in and get the smile you deserve today!
Dr. William Guthrie of Bedford Dental has completely changed my life! I have been working with him for many months in preparation of having all new porcelain crowns put in the top of my mouth. Dr. Guthrie is patient, caring, gentle and thoroughly knowledgeable. I am so thankful for my new smile and for Dr. Guthrie and the staff at Bedford Dental! I highly recommend Bedford Dental and especially Dr. William Guthrie who is on top of his game!! My confidence is through the roof and I cannot stop smiling!!! My teeth are beautiful!! Thank you Dr. Guthrie.

April Mailhot

I have been a faithful patient for years. I will not allow anyone besides Vanessa to clean my teeth. I was a 40 year old who has not smiled and shown her teeth literally for decades. I was terrified of going to the dentist. What didn't help was feeling shamed by hygienist and dentists when I finally got the courage to go. When Dr. Connolly finished all my restorative work and I could actually smile – really smile I teared up, tears of joy. I know I was not an easy patient due to how much work was needed and my anxiety. I cannot recommend either Dr. Connolly or Vanessa highly enough for their professionalism, skill and kindness. I know the word "amazing" is overused but they truly are.

chrystine blums

Bedford Dental Care far surpasses any other dental practice I have ever visited because they go above and beyond to ensure the highest level of care at every visit. During my first visit, my phenomenal hygienist helped me enroll in Health Through Oral Wellness, something my insurance offers. I probably wouldn't have signed up on my own, but Im glad she helped me sign up because now I can get the extra benefits I need for my dental health. Having neglected to visit the dentist for over a year due to fear from my past dental disasters, I needed to have three cavities filled today. I wasn't looking forward to this day, but honestly this procedure was a walk in the park! I am writing this review just 5 hours after the procedure, the novocaine has worn off and there is only a slight ache (which is to be expected.) I am so impressed with Dr. Guthrie and his assistant Bella. They make an excellent team and I truly felt that I was in good hands throughout the whole procedure. Numbing is always the worst part, but I could not feel those needles. At all. I was amazed! Dr. Guthrie is so kind and careful, which really put me at ease. This visit was actually relaxing, even more relaxing than some manicures and pedicures I have had! The best part about Bedford Dental Care is not having to be afraid of the dentist anymore. If you get nervous going to the dentist, give Bedford Dental Care a try. They're the best!

Chelsea T

I am 65 and I do not want dentures. I worked up the courage to go to Bedford Dental. It is a one stop dental office. The office is very clean and the staff is very friendly and efficient. I have some fear of the dentist chair. You know that sudden zing of pain that usually happens? It never happened and I had three dental extractions and two dental implants performed by Dr. Johnson. She is awesome. There was minimal swelling after each procedure. I learned a lot from Dr. Johnson about caring for my gums. I will see Dr. Guthrie soon to finish the dental implants and a crown. I am well on my way to keeping my teeth. I already recommended Bedford Dental to family.

Laurie Cahill

I have been a patient of Dr. Guthrie for a number of years now. I have never trusted a dentist more than I trust him. He always takes the time necessary to review all the treatment options along with the potential cost. He will then provide me with his ultimate recommendation. He always respects my decision, even when what I would like to do falls a bit short of his ultimate recommendation. He makes sure that I am comfortable throughout the procedure, and will stop, if necessary, to take additional steps to make sure I continue to be comfortable. He genuinely cares about his patients. I highly recommend him for anyone who has never been to a dentist, has not been to one in a long time, or just gets nervous at the thought of being in the dentist's chair. Dr. Guthrie will ease any anxiety with his gentle nature.

Holly Stevens

Bedford Dental Care really cares about you and your teeth. I am one of the worse dental patients around! Just went thru some extensive work on my teeth and I tell you Dr Connoly and Karen did all possible to help me through this. They are understanding and kind.

Laurie Lamont

I recently had a root canal by a dentist at Bedford Dental., and am stunned that it was a painless, actually pleasant experience. Not a bit of pain ….with numbing, during the procedure, or after. Dr. Fooks was professional, efficient, and quick. In and out within an hour. She is the best…totally AWESOME. For someone who has always been terrified of the dentist, this was amazingly painless. Love Dr. Guthrie and all of the dental assistants…especially Bella. The entire staff at Bedford Dental = fantastic !!

Cheryl Serodio

I had been avoiding the dentist for longer than I'm proud of until I found Bedford Dental. They take their time, explain everything in detail before they do anything, and show you every scan and image they take. They actually listen and take what you say into account with their plans moving forward. They are so friendly and thoughtful and make you feel at ease, especially if you haven't had the greatest experiences at the dentist. I doubt I'll ever miss another appointment as long as I'm going to Bedford Dental. Highly recommend!!!

Meghan O'Connor

I have been a patient of these professionals for years now. I wish I could rate them a 10 star organization! The entire staff is friendly, professional and who knows me as a person not a patient. My team always listens to me, lets me tell them what my issue is, (KEY POINT), evaluates what they find, takes the time to review their findings with me, discuss options and I am the one the makes what I want done. Now, there have been times when an emergency comes up, but I never have an issue getting an appointment for treatment. So if you want a team that you are part of from the time you walk in until the time you leave, Bedford Dental Care is the dental place for you and your family!

Paul Fleming

Undoubtedly the best experience I have ever had in a dental office! And that's despite getting 2 crowns during one visit no less!

Dr. Guthrie and Bella were outstanding in making this experience pleasant & comfortable for me, as well as completely successful!
My crowns look wonderful due to Dr. Guthrie's expert skill and Bella's artistry… Bella was amazing at ensuring that my crowns matched my other teeth!

And it's really impressive to me that despite having several crowns fitted in the past (by other practitioners) this is the first time I haven't needed additional grinding and fussing to make my bite feel right!

peg pedone

I will only take my family to Bedford Dental Care! Thank you again Dr.Connolly and Jen! I'm so happy with all the services we receive. My children love coming to Bedford Dental and I love the detail, personal attention and the cleanings they receive.
Thank you,
Dawn

Dawn Curtis

My smile is very important to me, so I feel the need to be in the right hands. If you are looking for a clean, comfortable, modern office, with state of the art technology and passionate staff, Bedford Dental Care is the right fit for you. For most people, going to the dentist is not on their list of favorite things to do. For me, I look forward to every visit. Thank you BDC for taking such great care of me!

Shaun

I have had nothing but positive experiences at Bedford Dental. The entire staff are professional, welcoming and sensitive to their patients, especially patients like myself who experiences anxiety. The office is very accommodating when scheduling appointments and respect the time of their patients by keeping wait time to a minimum. I have been a patient for over ten years and have recommended many friends try them. They have and continue to provide me with a healthy smile!

Theresa Taylor

Going to the dentist has been in the past a difficult and painful experience. But Karen and Dr. Guthrie and all the staff have totally changed that for me. Their kindness and gentleness allows me to leave the office feeling uplifted and comforted and well cared for. This is coming from someone who is a total wimp and crybaby about dental pain. Blessings to the Bedford Dental family.

Lloyd Wiley

The entire staff is welcoming, cheerful. Dr. Paul Connelly is the most informed and talented dentist — so glad to be treated by this extremely professional group.

Andrea Kenney

My grandfather was my dentist for a long time until he retired, so I'm always very hesitant to let anyone else look at my teeth. I came here with my boyfriend when he had an appointment and was impressed with the office. The staff members are all fantastic, the office is run really well, my hygienist is always amazing, and Dr Guthrie is awesome. I've had everything from regular cleanings to my wisdom teeth extractions here and felt well cared for every time. Friendly professionals who legitimately care, I'll come here for the foreseeable future!

Amelia McKeever

From the moment I made my first appointment and throughout a number of dental issues, the entire staff treated me with great care and concern! The entire staff from Dr. Guthrie, hygienists and office staff are professional, experienced and put patient safety and comfort first. Definitely a patient centric dental practice. If you and your family are not going to Bedford Dental, you're going to the wrong dentist!

Robert Thaler

I highly recommend Bedford Dental Care. This practice is full of caring, friendly and informative staff. The girls at the check out desk are always beaming genuine smiles. Dr. Connolly and Dr. Guthrie are both very compassionate towards myself and my children. A truly wonderful dental office.

Laura Chevrette

Bedford Dental Care really cares about you and your teeth. I am one of the worse dental patients around! Just went thru some extensive work on my teeth and I tell you Dr Connoly and Karen did all possible to help me through this. They are understanding and kind.

Laurie Lamont

I had very extensive work done at Bedford Dental a little over a year ago, cannot recommend them enough, I hadn't smiled in over 15 years due to bad teeth and I now am complimented on my smile all the time! Bedford Dental allowed me to smile again!

Nate Hill

I was recommended Bedford Dental by my boss in an emergency dental situation. My first & continuous impression remains that staff are compassionate and well practiced. I've found that the overall experience and quality of care are positively unmatched within my extensive dental history. I know my family and I will always leave with a smile. Thank you so much!

Elizabeth Kilroy

I've had my third gum graft with Dr. Sharon Johnson and her assistant Danielle. I could not be happier with the experience I've had. They are both kind, quick and explain everything clearly. I went home knowing what to expect and confident that if there was a problem (which there wans't) I'd be able to reach someone for help if needed. They had done a beautiful job restoring my gums and I could not be happier with the results. I highly recommend Dr. Johnson.

Kristina Bowman

My husband and I have always had excellent dental care here. As patients of Dr. Loveless for over 20 years, we've known we were in good hands at all times. Since his recent retirement, we have been smoothly transitioned to very fine colleagues, in particular Dr. Johnson.
Karen has consistently provided great dental care and is a top-notch, knowledgeable assistant. And a good mention for Shaina, too.
Also, Dr. Guthrie is a terrific addition and has great team members.
The same can be said for the hygienists as successors of the wonderful Nancy. Paula (and her colleagues) are professional, thorough, careful and good-humored.
And in case anyone dreads paperwork, don't want to forget the great service we always get on that side, very good customer service!

Diana Ferguson

I have been going to this dental office for over five years. Dr. Guthrie is a fantastic dentist. Very professional and skilled. He is always very pleasant and I never feel rushed. Karen, a dental hygienist is wonderful. She too is very professional and is excellent at what she does. She keeps me on my toes regarding good dental health and my teeth have been very healthy as a result. I highly recommend this practice. Everyone is pleasant and friendly. I could not be happier.

Gail Ellis

When I was searching for a new dental office, I had a specific image of what the office would look like and high expectations of the level of services offered. From walking into the main door viewing the clean and modern office to meeting Dr. Guthrie and Jami, Bedford Dental Care did not disappoint! Jami is extremely gentle during the cleaning process and will talk to you throughout – both for conversation and calming effects for those who may need it. I absolutely give Jami the highest recommendation! Dr. Guthrie is completely professional and puts you at ease the minute he greets you. He is always smiling! Truly he's someone who loves his profession and strives to make his patients smile their absolute best. Five stars to Dr. Guthrie on his level of care, knowledge and professionalism!

Vickie Wilcox

I have been coming here for years and it is always a great experience. My hygienist Jamie is the best and I always look forward to seeing her. Imagine that?!
Recently I had two crowns completely finished in two and a half hours. Dr. Guthrie and Bella were so attentive to my comfort and well being during this long visit.
They have state of the art equipment and a beautiful, welcoming office space. I highly recommend this practice.

Kimberley Hayes

I was initially very concerned about whether I would be uncomfortable during my procedure. However, Dr. Guthrie and his assistant Jess provided a very calming, pain free, and very skilled experience. Both have a very caring manner and made me feel important as a patient. I would highly recommend Bedford Dental Care for your dental needs. They get all 5 stars from me!

Lucy Marston

This dental Office is awesome from start to finish. I recently moved back to the area and a few weeks ago I received a text message on my phone saying I had a dentist appointment?! Well, my wife had made an appointment for me without checking my schedule, as she knew I wouldn't on my own (thank God she can't do a Google review on me)
Well anyhow I went in and had the initial consult, which was extremely thorough and a great value to have everything explain to you in detail. Next I had my cleaning which was quick and painless and again very in-depth. Unfortunately for me after years without going to the dentist it was determined I had several cavities. Funny how that works?
I spent three hours in the dentist chair yesterday getting cavities filled and it was honestly a great experience. They take so much care and ensuring you were comfortable that I literally fell asleep for an hour.
I don't see how you could have a better experience with a dentist office, I highly recommend this place
And Dr. Guthrie specifically.

nathan bailey

I can't say enough good things about Dr. Guthrie and everyone at Bedford Dental Care. We've been patients for 5 years and between dental cleanings, root canals, crowns, and wisdom teeth extractions, all of our experiences have been stellar. Dr. Guthrie is kind, patient, and an excellent clinician. The hygienists are friendly, as is the staff. The facilities are clean and modern, and the waiting room decor is stylish. A+

Maria Schroeter

I have been a patient of Dr. Guthrie & Karen for a few years now and they are top notch. Dr. Guthrie is professional, efficient, skilled and always a pleasure to deal with. I had a space between my teeth that he corrected for me and the results are fantastic! I couldn't be happier and would highly recommend Dr. Guthrie and Bedford Dental Care.

Melissa J

Dr Guthrie and his staff are wonderful. They make you feel welcome and valued, and are very skilled at what they do. The office staff is always friendly and professional, and I've never had a negative experience. Highly recommended!

Michelle Jeglinski

I have been going to Bedford Dental for about 4 years and could not speak more highly of a dental office. Dr. Guthrie is an incredible dentist! The front office is so kind and welcoming. Sofia has helped me many times whether it be with appointments or insurance questions and always makes me feel at home. Highly recommended!

Jessica Hollingsworth